Giving Back To The Community In Our Own Special Way
We consider ourselves blessed to be living and working here in Southwest Florida. Which is why we at SW Florida Homes Group are delighted to give back to the community. We accomplish this in a rather unique way: with pictures of Classic and Collector Cars and Trucks! Allow me to explain…
Southwest Florida is a great place for car and truck enthusiasts for several reasons. Two most notable is the climate, which allows for great weather year around for car events, and the attractions, which provide a multitude of scenic destinations to enjoy your ride. The community is supported by a number of Car and Truck Shows held throughout the year. Proceeds from these shows go the benefit of a number of great charities. Our contribution is that for many of these events, we take high resolution photos using professional grade equipment of each participant's vehicle, have them professionally printed and then mailed in a special commemorative folder. But significantly, we do this entirely free of charge. As you can well imagine, this is an expensive and labor intensive process. But doing so increases awareness and the attendance of the event, which in turn benefits the charity.
In 2018 we processed, printed and mailed nearly 1,000 5x7 photos and published reports and photos on over a dozen events. So, we'd like to recap the shows we covered and the charities for which they raised money and highlight what those organizations provide to those who need their services.
Caffeine and Gasoline - is held on the last Saturday every month at BMW of Sarasota from 8am to 11am is open to all makes and models from classics to exotics. They raise money throughout the year for two causes. All Faith's Food Bank which partners with entities in Sarasota and Desoto Counties to provide basic necessities to households where children, seniors, and veterans are in need. This includes mobile pantries, mobile farm markets, school panties, nutrition education, and backpacks for students full of nutritious foods for weekends. All Faith's Food Bank also has disaster plans in place for hurricane relief, like in the case when Irma impacted Florida. The other organization that Caffeine and Gasoline supports is the Toys for Tots program by the US Marine Corps. Toys for Tots provides toys, books, and other gifts and passes the message of hope to less fortunate children. They also provide literacy programs with quality children's books to children and schools across the country.
Beach N' Food Truck/Music Festival Car and Truck Show, Island Bay Fest Car and Truck Show, and the Spring and Fall Gamble Mansion Bill Mergens Memorial Car and Truck Show - these are the largest events we attend by far and support two wonderful causes in the Manatee County. In the month of April the Beach N' Food Truck/Music Festival not only included the area's finest mobile eateries and local bands they also hosted a car and truck show as well as vendor booths with unique merchandise. The event was staged right on the white quartz sand of Coquina Beach and the turquoise waters of the Gulf of Mexico. Likewise, the Island Bay Fest is hosted on Pine Ave in October with a 150+ car and truck show along with food and merchandise vendors, live music, activities for both adults and kids, and local cafés and boutiques open to visitors.
The Spring and Fall Gamble Mansion Bill Mergens Memorial Car and Truck Show is held on the grounds of the historic Gamble Plantation under picturesque southern oaks. They usually see vehicle attendance between 250 to 300. All benefiting the Gamble Preservation Alliance and the Manasota S.O.L.V.E. Maternity Homes. The Gamble Preservation Alliance provides financial assistance for preservation, restoration, and improvements to the Gamble Mansion, to promote educational programs that teaches the park's cultural past and to enhance visitors' experience, to promote interest in the local history and raise public awareness through historical re-enactments and events, and to provide a destination of heritage for tourist. Funds also assist in providing much needed supplies and equipment that support daily operations and maintenance of the park that otherwise may not be funded through state budgets. The Manasota S.O.L.V.E. Maternity Homes serve the needs of at-risk pregnant women of all ages and their babies. They offer Christ-centered, structured housing programs free of charge from the time of their pregnancy and a pre-determined time post birth. They do not rely on government funding, but are solely supported directly by community donations. Services that are included are education, counseling, health care resources, parenting classes, spiritual support, reassurance, and case management.
Ruskin Family Drive In Cruise In - was held several times throughout the year benefited the St. Joseph's Knights of Columbus Food Bank. The drive in is one of the last iconic landmarks from an era gone by that is still in weekly operation. The cruise in offered 50's and 60's music by Lance's Cruisin' to the Hop, prizes, and awards, and a contest for best dressed 50's outfit. Proceeds went to the St. Joseph's Knights of Columbus Food Bank which provides an orderly and fair distribution of food to those in need. The food bank is supported by parishioners, local businesses, and grants from local organizations. Funding does not come from the government, but when available they do obtain food from the USDA.
The Sarasota Powerboat Festival Car and Truck Show - held in June at the Sarasota Fairgrounds mixed street muscle with high performance race boats. This event benefited the Suncoast Charities for Children which is a non-profit that provides grants to the Suncoast Foundation for construction, capitol improvements, and special projects for local non-profit agencies that provide services for children and adults with special needs. The organization supports necessary repairs and improvements to aging campuses that include The Haven, The Florida Center for Early Childhood, Children First, and Sarasota County Special Olympics. Proceeds are provided by several events held throughout the year like the Sarasota Powerboat Festival as well as from a multitude of community partners.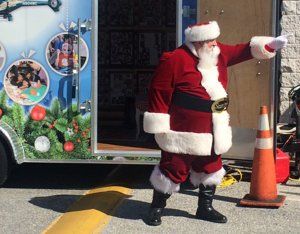 Manatee County Sheriff's Office Flight to the North Pole Car and Truck Show - held every November at MCSO's Operations Center; this show pulls in over 150 vehicles and motorcycles with live entertainment, lots of raffle prizes, and burgers and pizza. Flight to the North Pole was started in 1985 by the employees of Eastern Airlines. Each year it has been held at the Sarasota/Bradenton Airport for terminally ill children giving them a day with Santa and his elves where they participate in games, activities in Santa's workshop, food, and presents. The airport fire department is turned into a winter wonderland for children who may be celebrating their last holiday and make it memorable for them and their siblings and parents. As time progressed the Manatee County Sheriff's Office and the Airport Fire Department took the reins and partnered with other community organizations and individuals to continue this mission that the Eastern Airline employees started. All work together to help shed a ray of light in the lives of local children who otherwise are going through dismal circumstances.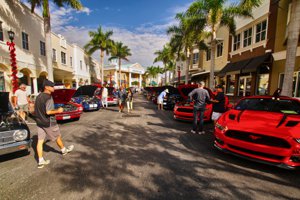 Ponies Under the Palms Mustang and Ford Show - held each November on Main Street Lakewood Ranch and attracts over 170 vintage and modern Mustang and other Ford powered vehicles. Offering a wide assortment of raffle prizes, entertainment, and a variety of shops and cafés on Main, this event supports two fine charities that work with members of the community. First is the Southeastern Guide Dogs who partners service dogs with those who have lost their vision and veterans with disabilities. They run an advanced training facility and have recruited some of the most talented trainers and scientist in the world. Southeastern Guide Dogs are a national outreach providing dogs and lifetime services at no cost and without government funding. They've matched over 3100 service dogs since their inception in 1982. The second beneficiary is Take Stock in Children whose mission is to break the cycle of poverty for low income and academically qualified students. They provide this by offering post-secondary education, college scholarships, and mentors. Their services begin in middle school, and continue into high school, as well as the student's transition through college and onto their career. Take Stock is active in over 800 schools throughout the state including Manatee and Sarasota Counties making sure students graduate with the knowledge and skills necessary to successfully enter the workforce. Their success is evident with 96% of their students graduating high school, 67% graduate college compared to the state average of only 25% who are in poverty, and 85% did not need remediation.
Show after show car enthusiasts have come out to participate and support these organizations and the communities they serve. It has been an honor, privilege, and in a lot of cases humbling to be a part of the efforts put forth by so many to make sure people's needs are met when they most need it. We look forward to 2019 and the new opportunities to participate in future events supporting these and other causes in Manatee and Sarasota Counties. And we hope to see you there as well.
From our family to yours; we wish you a very happy and healthy New Year!
Content by Kelvin Etchison and Mark Stanoch