Ring in Autumn with SW Florida Fall Festivities and Halloween Events
After a long warm summer and an unusual rainy season SW Florida is looking forward to some dryer, sunnier, and less humid weather. With Fall underway; what better way to get into the autumn spirit and enjoy the cooler SW Florida temperatures than to take in some of the local seasonal festivities? So, here's a look at the area's most notable events.
Let's begin with two of the longest running galas; Hunsader Farms' Pumpkin Festival in Manatee County and Fruitville Grove's Pumpkin Fest in Sarasota County.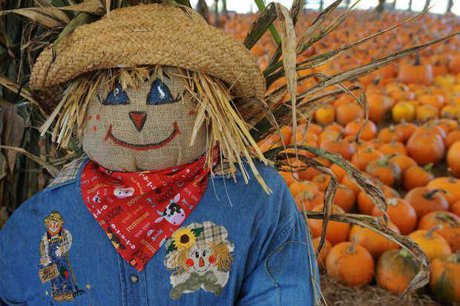 October 20-21 and 27-28 from 9am to 5pm: Hunsader Farms is entering into their 27th year hosting their Pumpkin Festival offering numerous activities and entertainment. There's games, pony rides, petting zoo, face painting, hayrides, corn maze, a barnyard playground, rock climbing, a zip line, scarecrow displays, charity pumpkin games, craft shows, the pioneer village, a car show, and 14 live shows along with live music. And, of course, homemade ice cream, pumpkin pie, farm roasted sweet corn, and much more in food. Admission is $10, parking is $5, children 10 and under are free! Hunsader Farms is located at 5500 C.R. 675, Bradenton, FL 34211. Call 941-322-2168 for more information or visit https://www.hunsaderfarms.com/pumpkin-festival or check them out on Facebook.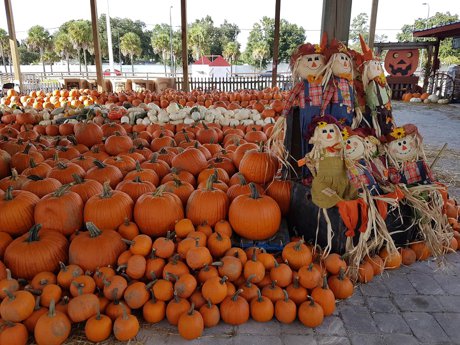 October 20-21 and 27-28 from 10am to 5pm: Just a short distance south is another great and long running tradition. Fruitville Grove's 30th Annual Pumpkin Fest which is well known for their variety of activities and entertainment, too. Here they offer hayrides, a wildflower maze, mini train rides, bungee jumping, pumpkin painting, pony rides, face painting, a petting zoo, laser tag, a giant rock wall, a butterfly garden, and craft vendors. They have a myriad of pumpkins in displays, corn stalks, hay bales, scarecrows, and garden decorations. And for food there will be food trucks along with local restaurant booths, kettle corn, caramel apples, milkshakes, hand dipped ice cream, and much, much more! Yum!!! Admission, parking, and most activities are free! Some individual rides and activities have their own separate cost, so make sure to bring some cash with you as some do not accept credit cards. Fruitville Grove is located at 7410 Fruitville Rd, Sarasota, FL 34240. Call them at 941-377-0896 for more information or visit their site at http://www.fruitvillegrove.com/festival/. You can also find great pumpkin recipes on their website, as well. Two great festivals in two locations, you say?! Don't worry, you still have plenty of time to catch both!

October 26th at 7pm, 8pm, and 9pm: Historic Spanish Point in Osprey, bordering Little Sarasota Bay, will host their Ghost Hunting Tours. The evening will mix history along with spooks, specters, and other ghostly activities on their 30 acre outdoor museum which includes the Guptill House, Mary's Chapel, White Cottage Lawn and Sunken Garden, and the Duchene Lawn. Appropriate for children ages 8 and up; tours will not only entertain your family, but might even be a "chilling" and "frightening" good time. Bwahahahaha! Oh! I got caught up in the moment. Back on track! Spanish Point is located at 337 N. Tamiami Tr., Osprey, FL, 34229. Call 941-966-5214 for more information or visit their site at https://www.historicspanishpoint.org/ .

October 26th at 6:30pm till ??: WSRZ (Sarasota's own Oldies 107.9) will be hosting their Friday Night Dance Party Monster Mash. Join deejays David Jones, Meredith Michaels, and Billy Jack for this hoppin', boppin', and jammin' good time with an evening of music, dancing, games, and the Ultimate Costume Contest where contestants will be eligible for $1500 in cash prizes. The dance party will be held at the Venice Community Center 326 S. Nokomis Ave., Venice, FL 34285. $12 per person in advance, $15 day of event. For more information visit their site at https://wsrz.iheart.com/featured/friday-night-dance-party/ .

October 26th at 6:30pm to 9pm: Lakewood Ranch Main Street will host their 13th Annual Boo Fest. This event features numerous activities for the family. A "Spooktacular" maze, along with trick or treating, balloon artist, as well as live music and dancers. Come dressed in your scariest Halloween costume and be a part of the costume contest. Of course there will be food and drinks available and the local shops and cafes will be open for business, too. Admission is free and will be held throughout Lakewood Ranch Main Street in Lakewood Ranch, FL.

October 26th and 27th from 7:30pm to 10pm: 6th Annual Haunted Trails of Oscar Sherer State Park. A haunted trail and a haunted house are just two features during this weekend. There will be costume contests, trick or treating, spooky sounds, and food. Kids 13 and up are $10, 6-12 are $5, and age 4 and under are free. Oscar Sherer State Park is located at Rt. 41, Osprey, FL. For more information call 941-483-5956.

October 27th from 9am to 2pm: Bradenton Farmer's Market will host their Howl'ween Pet Costume and Parade. The pooch parade will be held on Old Main Street where K9's will be dressed in their best and scariest costumes. Owners are encouraged to dress in costume, as well. There will be prizes for best pet and best owner. There will also be crafts, produce from local farmers, as well as food and activities for the whole family. Call 941-621-6471 for more information.

October 27th 5pm to midnight: Stay later to catch the Main Street Live Downtown Street Party in Bradenton. This year's season of live music on main will kick off with a Halloween bash! Costume contests, food, and drink vendors as well as arts and crafts will be on hand for this occasion. No charge to attend.

October 28th from 10am to 12pm: The Marie Selby Botanical Gardens will host their annual Spooktacular. Fun for the whole family awaits with costume contest, trick or treating, and spooky (or maybe not too spooky) festivities. Kids can participate in pumpkin decorating. There will also be educational activities like seed planting and the mad scientist experiment center. The Marie Selby Gardens is located at 900 S. Palm Ave., Sarasota, FL. Adults $20, Children 4-17 $10, members are free, and member's guests are $10. For more information visit https://selby.org/ or call them at 941-366-5731.

October 31st from 3pm to 6pm: Visit Siesta Key Village for their Safe Treats Halloween. Participating stores and shops will be decorated with orange and black balloons and pumpkin flyers will be in their windows. Bring the little ones to trick or treat in a safe environment and enjoy a little shopping and great food at one of the fantastic eateries in the village. Admission is free.

October 31st from 6pm to approximately 8:30pm: The 10th Annual Fright Night on St. Armand's Circle will host haunted store fronts, statues will be dressed in Halloween character, plus frightening ghouls and goblins will be around every corner. Kids can trick or treat around the circle and there will be a performance of "Thriller" by the Sarasota High School Drama Department around 8pm. Located on St. Armand's Key, FL.

So, there you have it! The Suncoast has a lot of fun fall activities at some of the region's most popular venues. I look forward to getting out to some of these events and enjoying the special atmosphere this time of the year generates. I hope to see you there as well! Until next time, Happy Fall!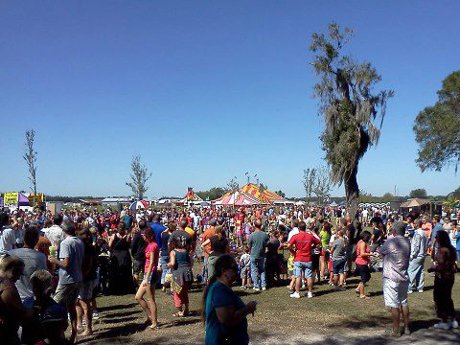 Content by Kelvin Etchison, photos courtesy Hunsader Farms and Fruitville Grove