The Real Estate Markets in Manatee and Sarasota Counties continue to diverge in April.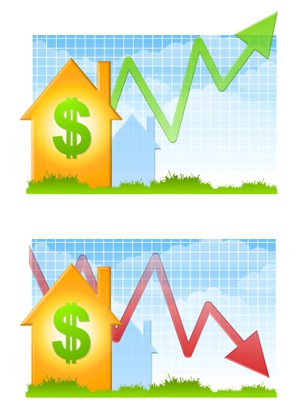 It is certainly becoming a "Tale of Two Counties". While Manatee County real estate showed gains during April, the market in Sarasota County continued to languish by comparison. Let's take a closer look at the numbers.
Moderate Sales
The Florida Association of Realtors (FAR) just reported that Closed Sales of Single Family homes in Manatee County increased by 3.9% from the same period last year. While these sales remained virtually flat over March of this year, the Median Sale Price of Single Family Homes increased by 1.6% to $404,932 with the Average Sale Price decreasing by a modest 3.5% to $390,612. This is in sharp contrast to the results reported in Sarasota County where Closed Sales dropped by 2.6% over April of 2018, but were up slightly from the previous month (March Closed Sales were 778 units with April coming in at 793 units). The Average Sale Price remained virtually the same from March of 2019 reported at $417,774 but the Median Sale Price (which is a more robust estimate of general pricing trends) increased by 1.5% over April of 2018. The Median Sale Price in Sarasota County was reported as $290,000. You may view the full reports by clicking on the accompanying graphics.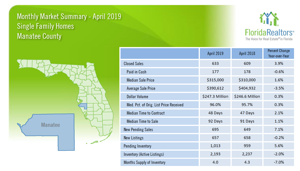 Significant Differences in Inventory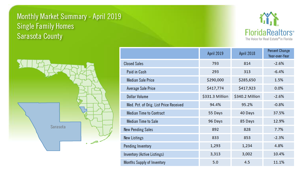 On the supply side of the equation, New Listings for Single Family Homes in Manatee County were down .2% from a year ago but the number of Active Listings dropped by 2.0% over the period. But the Months Supply of Inventory plummeted by a healthy 7.0% keeping Manatee County well within the realm of a Seller's Market. Just the opposite is evident in Sarasota County however. There, the number of Active Listings grew by 10.4% over April of 2018. Significantly, the Months Supply of Inventory (that is, the number of homes available for sale expressed as a factor of how quickly they are absorbed by the market) skyrocketed by 11.1% in April. This keeps sales of Single Family Homes in Sarasota County at the threshold of a Buyer's Market. Remember, you can download the full report by clicking on the appropriate graphics.
Sales of Condo and Townhouse Properties were down in both counties.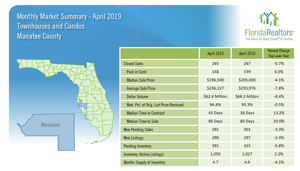 Where Manatee and Sarasota Counties align is in the sale of Condo and Townhouse Properties. Sales of these properties in both Manatee and Sarasota Counties were reported down in April with decreases of 0.7% and 8.3% reported in Manatee and Sarasota Counties respectively.
But an interesting dynamic was in play during April regarding pricing. The Median Sale Price of Condo/Townhouses in Manatee County decreased by 4.1% while the sales of these properties in Sarasota increased slightly by .3%. It is too early to say that prices have "bottomed out" in Sarasota County, so we will need to review the trends over the next couple of months. This is especially true when you consider what is occurring on the supply side.
Supply of Inventory
The number of Active Listings in Manatee County edged up 2.2% while the Sarasota market was bombarded with an increase of 16.0%. This translated into a Months Supply of Inventory decreasing in Manatee County by 4.1% with the same statistic in Sarasota County exploding by 21.6%. The current Months Supply of Inventory of Condo/Townhouse Properties in Sarasota County now stands at 6.2 months supply, keeping the market firmly in the Buyer's Market category. By comparison, there exists only a 4.7 Months Supply of Inventory for Condo/Townhouse Properties currently in Manatee County. Once again, you may review the full reports by clicking on the accompanying graphics.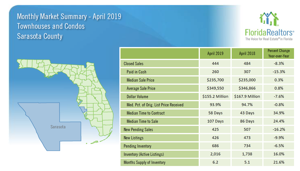 Seasonal Differences
When reviewing this data, Buyers and Sellers should bear in mind that properties follow very different seasonal fluctuations. April is generally considered the beginning of the buying season for Single Family Homes and the statistics bear this out. Sales of Single Family Homes in both Manatee and Sarasota Counties outperformed the sale of Condo/Townhouses during April (despite Single Family Home Sales being down in Sarasota County, it was significantly less - 2.6% versus 8.3% - than the decrease in Townhouse/Condo Properties). We expect this seasonality to continue through May and June.
Good News On Mortgage Rates
Mortgage rates have firmed up in recent weeks as well. According to Freddie Mac, the average commitment rate for a 30-year, conventional, fixed-rate mortgage decreased to 4.14% in April from 4.27% in March. The average commitment rate across all of 2018 was 4.54%. So buyers may want to decide on purchases now to take advantage of a lower rate than last year.
Our Advice: Stay On Top Of The Numbers!
Sellers should be fully aware of their local market. Condo/Townhouse Property sellers should realize the strong head winds posed by seasonality. The Median Time to Contract for Condo/Townhouse Properties increased by 13.2% and 34.9% (or 43 days versus 58 days) respectively in Manatee and Sarasota Counties. So sellers should set realistic expectations for the number of days their properties will be on the market.
Sellers of Single Family Homes should also be aware that sale prices have moderated. Increases were recorded in both counties, but they were slight by any measure.
If you would like to discuss how these market statistics affect your real estate plans, just give us a call at (941) 840-2265. We would love to chat with you!