Single Family Home Sales Improve While Condo/Townhouse Properties Remain Sluggish
Single Family Homes Lead the Way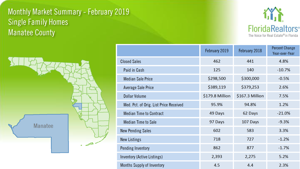 The real estate picture in Manatee and Sarasota Counties was exceedingly better in February as sales of Single Family homes increased over the same period last year. According to the most recent report from the Florida Association of Realtors, sales of Single Family Homes in Manatee County increased by 4.8% in February, up from a decrease of 16% in January. Sales of these products in Sarasota County registered a 4.2% increase over February 2018 compared to a decrease of 11.4% in January of 2019. However, the supply of homes on the market increased across both counties in February with Manatee County recording a slight increase of 2.3% in Months Supply of Inventory. But the number of homes for sale in Sarasota County approached the lower bounds of a Buyers' Market with the Months Supply of Inventory standing at 5.4 months, a whopping 14.9% increase over February 2018.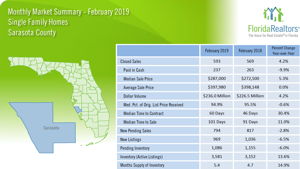 Prices remained relatively stable in both counties with the average price of Single Family Homes remaining flat in Sarasota County while prices inched up by 2.6% in Manatee County. In another indication of the general sluggishness in Sarasota County, the Median Time To Sale increased to 101 Days, an increase of 11.0%, while sales accelerated in Manatee County showing a 9.3% decrease to 97 Days for this same measure. To review the full report, simply click on the accompanying graphics.
Condo/Townhouse Sales Down Again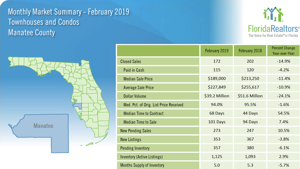 Sales of Condo/Townhouse properties in both Manatee and Sarasota Counties were down for a second consecutive month. Manatee County reported a 14.9% decrease in these sales while similar sales in Sarasota County were down by 12.1%. But this was actually an improvement over January sales in Sarasota County when a decrease in excess of 33% was reported.
Both the Median and Average Sale Prices increased in Manatee County while the Average Sale Price in Sarasota County had a dramatic drop of 11.0%.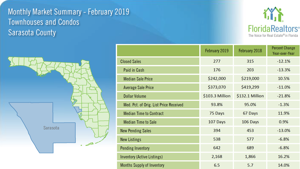 The Months Supply of Inventory in Manatee County dropped by 6.0% while this same measure jumped by 10.9% to a 6.1 Months Supply of Inventory firmly establishing the Condo/Townhouse market in Sarasota as a Buyers' Market. Here again, to view the details of these reports, you can simply click on the accompanying graphics.
Strong Seasonality for Single Family Homes
These results are not surprising when taking seasonal buying trends into account. As we approach the traditional buying season for Single Family homes, we can see month-to-month sales increasing. And, the recent increase in Single Family Home inventory can be explained as sellers timing their listings to coincide with this annual bump in sales. The market for Condo/Townhouse properties is decidedly more complex however. Financing for these property types can sometimes be challenging and may be contributing to the overall sales slump. We will have to review performance over the next few months in order to determine a direction in the market for these properties.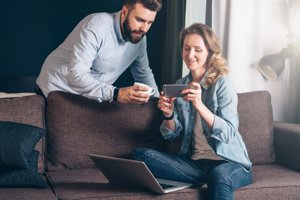 If you are in the market to buy or sell, give us a ring at (941) 840-2265. We would be happy to discuss your plans and determine how you may be able to make the most of these market trends.