One Of The Best Shows Ever!
This past Sunday saw a fantastic turnout out for the Bill Mergens Memorial Car and Truck Show at Gamble Plantation Historic Park both with show vehicles and spectators. And the Southwest Florida weather was absolutely gorgeous with blue skies and temperatures in the mid 80's.
Officially 276 vehicles were registered in for judging, however some participants opted to not be judged so there were more on display. From the 1920s on up to modern muscle and neuspeed; cars of just about every year, make, and model from domestic to foreign were well represented throughout the three show fields. There were classics of various years that were restored to period correct like Frank Chison's two tone green 1957 Buick Super. There were street rods from the 30's and 40's like Ray Redell's 1937 Ford sedan delivery. And there were customs from the 50's and 60's like Tim Dickson's 1950 Mercury. As well as muscle cars from the 60's and 70's like John Wessel's 1961 burgundy Corvette restomod. Today's muscle cars were out enforce, also, like Frank Scheffel's 2014 Mustang GT500. Vehicles from across the seas were there, too, like John Magine's 1957 MGA Roadster and John Azar's 1972 Datson 240Z. All spread across the beautiful grounds and under the lazy oaks of the historic plantation.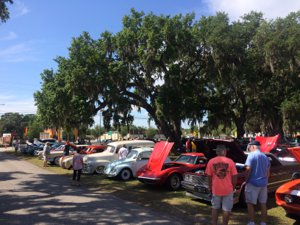 In addition to the show Lance's Cruizin' to the Hop kept everyone toe tappin' to classic rock 'n roll and Motown. Participants and spectators were able to purchase tickets to have a chance at winning some of the door prizes and a 50/50 jackpot. TK Grill was on hand serving up pulled pork sandwiches and hamburgers. They also had breakfast available for early risers which was a new feature to the show. And Tony's Paradise Ice Cream was dishing up that frozen goodness that cools the soul. The Gamble Plantation was open for tours throughout the day highlighting the role the plantation played in the local history.
Proceeds from the Spring Car and Truck Show benefited the Gamble Plantation Preservation Alliance and Manasota SOLVE Maternity Homes. The GPPA provides financial assistance for the preservation and restoration of the mansion and surrounding property. They also promote educational presentations that provides better understanding of the park's cultural past. The GPPA also sponsors historic events which stimulates public interest in history. Learn more by visiting: https://www.facebook.com/pg/GPPA.gamblemansionpark/about/?ref=page_internal. Manasota SOLVE is a private, Christ-centered, non-profit organization which provides assistance to pregnant women of all ages and provides personalized care and services. SOLVE's services includes housing, education, counseling, health care resources, childbirth and parenting classes, and spiritual support. Learn more by visiting http://solvehomes.org/.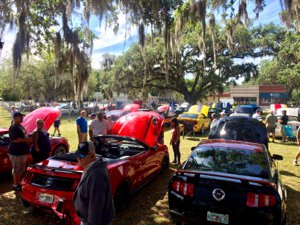 The Gamble Plantation Historic Park is located at 3708 Patten Ave, Ellenton, Florida 34222. They host both the Spring and the Fall Car and Truck Shows every year. Thank you to the team of local car enthusiasts which volunteer their time and efforts and to the many park volunteers that help make this show run smoothly and be a continued success. And thank you to the long running sponsors; FIRKINS Chrysler, Dodge, Jeep, NAPA Auto Parts, Q Auto & Injury Attorneys, Skyway Classics, SW Florida Homes Group, and Apple House Graphics for your loyal and continued support. Bill Mergens was surly looking down smiling with pride all day long.
If you missed this past Sunday's Spring show you'll want to mark your calendars for Sunday November 3rd. The Fall Show will mark the 25th anniversary from when it was founded by a past car club called The Manatee Classic Cruisers. The show will be from 10am-2pm. For more information call 941-527-7178 or 941-371-1061. See you there!
The SW Florida Homes Group was there again this year taking as many photos as possible. To see some of the shots of this great event, simply click on Ira's photo below.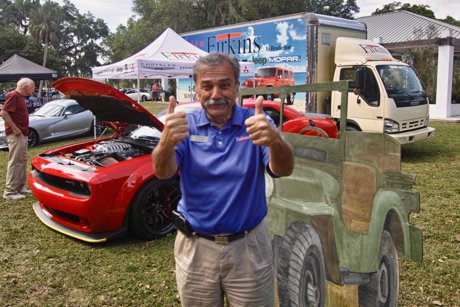 Content and photos by Kelvin Etchison