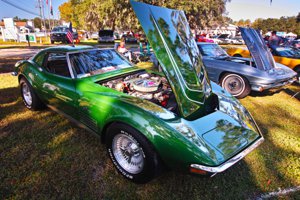 Our next batch of photos from the Fall 2017 show includes some beautiful GM vehicles. Corvette Coupes, convertibles and Sting Rays were all very well represented. In fact, the row of Corvettes rivaled the extensive "Mustang Row" in number and effect. And there were a number of fantastic trucks on hand as well. One of my personal favorites was the Happy Days truck:
So take a look at more of the great rides from the Fall 2017 show. Just click this link.
And don't forget. The next Gamble Plantation show is Sunday February 25. Each registered participant will receive a photo of their vehicle professionally printed and enclosed in a commemorative folder. So if you have not yet registered, download the form and register today. You may download a copy of the registration form by clicking this link.
We hope to see you there!