Real Estate Markets in Manatee and Sarasota Counties in Full Recovery Mode during July
Sales of all property types in both Manatee and Sarasota Counties rose significantly last month. Prices increased modestly while Discounting decreasing slightly. Sales velocity generally picked up in both counties during this period. But most significantly, Inventory levels have fallen to drastically new low levels during this same period.
Single Family Home Sales Post Healthy Gains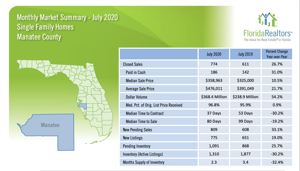 Sales of Single Family Homes in Manatee County grew by 26.7% over July of 2019 posting sales of 774 units. Sarasota County was not far behind with a handsome increase of 21.9% with 978 units being sold. Pricing grew as well with the Median Sale Price of Single Family homes reported as $358,963, a 10.5% increase over last year. Sarasota County saw price gains as well with the Median Sale Price coming in at $327,250, an increase of 12.8% over the same period last year.
Discounting moderated in both counties with the Median Percentage of Original List Price Received increasing by a mere .9% in Manatee County to 96.8% and only .8% in Sarasota County where prices paid were 96.3% of Original List Price.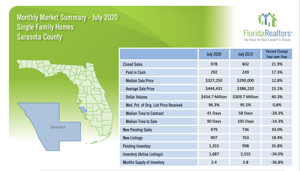 Sales Velocity increased dramatically in both counties during July. The Median Time to Contract in Manatee County was just 37 days, down from 53 days last July representing a decrease of 30.2%. Similar results were seen in Sarasota County with properties remaining on the market on 41 days, down from 58 days in July of 2019, a decrease of 29.3%.
But it is inventory that continues to hold sway over the markets. The number of Active Listings dropped precipitously in Manatee (30.2% decrease) and Sarasota (34.0% decrease) Counties. But the decrease in inventory can only be fully appreciated by translating these results into Months Supply of Inventory. Doing so reveals that the number of Single Family Homes currently listed represents only a 2.3 month supply in Manatee County and a 2.4 month supply in Sarasota county. This means that the supply of existing Single Family Homes in both counties is nearing a Sold Out position.
You can review the full reports by clicking on the appropriate graphics.
Sales of Condos and Townhouses Post Strong Results
Surprisingly, Sales of Condo/Townhouse properties in Sarasota County outstripped the pace of Single Family Homes during July. Sarasota County recorded 398 units sold during the period, an increase of 30.5% over last July. Manatee County saw far less activity with only 276 units sold, but this still accounted for a healthy 16.5% increase over July of 2019.
Prices increased modestly during July as the Median Sale Price for these property types was $220,000 in Manatee County, an increase of 15.2% over last year. The Median Sale Price in Sarasota County was $240,000 and represented an increase of 7.1% over last year. Discounting also moderated here with the Median Percentage of Original List Price Received rising by.7% and .6% in Manatee and Sarasota Counties respectively.
But Sales Velocity was a mixed picture for these property types during July. The Median Time to Contract rose in Manatee County to 64 days, up from 57 days last year, a 12.3% increase. But the pace was faster in Sarasota County with the Median Time to Contract decrease by 6.3% over July of 2019 to 74 days.
Decreases in available inventory was also prevalent for the Condo/Townhouse properties during July. Active Listings fell by 4.0% in Manatee County to just 799 properties while Sarasota County reported a drop of 11.5% of these property types. While not as dramatic as Single Family Homes, the Months Supply of Inventory dropped to new lows with Sarasota County posting only a 4 month supply (a decrease of 18.4%) and Manatee County reporting a mere 3.6 months supply.
Remember, you may view the full reports by clicking on the appropriate graphic.
Sell High, Buy Higher
Two factors continue to dominate the market. Inventory is reaching low levels not seen in our area for sometime. And 30-year fixed rate mortgages are now hovering around 3.0%. With home prices increasing, current homeowners can enjoy higher prices for their current home, but new home purchases can be made at lower rates of financing putting larger and more upgraded properties within reach.
We would be happy to discuss how these current market conditions can affect your your real estate plans. So give us a call today at (941) 799-1234.