Sales Are Down But Inventory Continues to Dwindle
Sales of all property types declined across both Manatee and Sarasota Counties during May. But the decrease in the Inventory level of existing Single Family Homes in Manatee and Sarasota Counties and Condo/Townhouse properties in Sarasota County conspired to keep prices firm.
No Surprises for Single Family Homes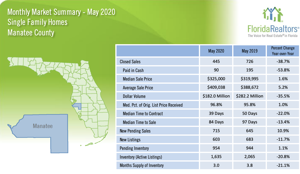 As expected, May was another down month for sales of Single Family Homes in Manatee and Sarasota Counties. Only 445 properties closed during May representing a 38.7% decline over May 2019 when 726 properties closed. Sarasota County reported even worse results with 562 properties closing against a total of 959 properties closing a year ago. This represents a whopping 41.4% decrease over the same period last year.
Curiously however, Sales Velocity actually decreased. On average, Single Family Homes in Manatee County went under contract within 39 days of being listed, that's a 22% decrease over May 2019. Sarasota County saw even more dramatic results with properties being updated to pending status within 32 days after listing, a drop of 42.9% over the same period last year.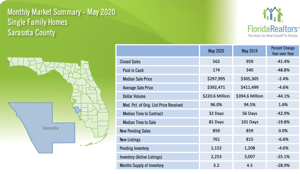 Pricing during this period remained relatively stable with the Median Sale Price of Single Family Homes inching up 1.6% to $325,000. Sarasota County experienced a slight decrease in price during this time with the Median Sale Price dropping by 2.4% to $297,995. Discounting edged up slightly by 1.0% and 1.6% in Manatee and Sarasota Counties respectively.
But the big news continues to be on the supply side. The current health crisis has generally discouraged sellers from listing their properties at the same rate as last year. New Listings for Single Family Homes in Manatee County dropped by 11.7% in May while Sarasota experienced a decrease of 6.6%. The Inventory of Actively Listed properties dropped by a dramatic 20.8% in Manatee County and Sarasota County saw their inventory of Single Family Homes for sale drop by 25.1%. This had a corresponding effect on Months Supply of Inventory. This measure fell by 21.1% to a mere 3.0 month supply in Manatee County and a 28.9% decline to 3.2 months supply in Sarasota County.
You may view the full reports by clicking on the appropriate graphic.
Seasonality Continues to Affect Condo/Townhouse Sales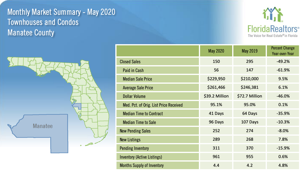 Sales of Condo/Townhouse properties precipitously declined in both Manatee and Sarasota Counties due in large measure to a combination of Seasonality and the current pandemic. Only 150 Townhouse and Condos were sold in Manatee County during May, representing a catastrophic 49.2% decrease over May of 2019. Things weren't much better in Sarasota County where Closed Sales decreased by 47.0% over last year to a total of only 242 units.
Yet prices remained relatively firm in the face of these declines. The Median Sale Price of these property types actually inched up 1.6% to $241,750 in Sarasota County, but increased by a healthy 9.5% in Manatee County to $229,950.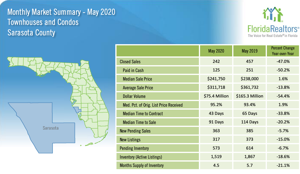 Sales Velocity was another bright spot in the overall picture of the market in May. The Median Time to Contract fell over Last year's results by 35.9% and 33.8% in Manatee and Sarasota Counties respectively during May.
The supply side was a bit of a mixed bag however. In Manatee County, the number of New Listings increased over the levels seen in 2019 by 7.8%, increasing the number of Condo/Townhouse properties by a slight .6% increase. But this did increase the Number Months Supply of Inventory in Manatee County by 4.8% to level off at a 4.4 months supply.
The opposite dynamic was seen in Sarasota County where the number of New Listing during May fell by 15% over May of 2019. This drop had a corresponding decrease in the Months Supply of Inventory to only a 4.5 months supply, a decrease of 21.1% over the same period last year.
Here again you can view the entire reports by clicking on the appropriate graphic.
What Does This All Mean?
Despite the gloom and doom messaging in the media, properties are continuing to sell during this period. With few exceptions, Sales Velocity and Inventory are decreasing at a moderate rate, not the sort of results you would expect during a period of crisis. The reasons for this are many. Housing, like food, is a basic human need and will continue to be sought after despite periods of uncertainty. Interest rates are decreasing rapidly with some annual rates for 30 year fixed mortgages dipping below 3.0% recently.
So if you are in the market, or only thinking about it, give us a ring today at (941) 840-2265. We would be happy to navigate these times to help you achieve your real estate goals.
Stay safe. And have a happy and healthy 4th of July!