Cars and Hotcakes Cruise In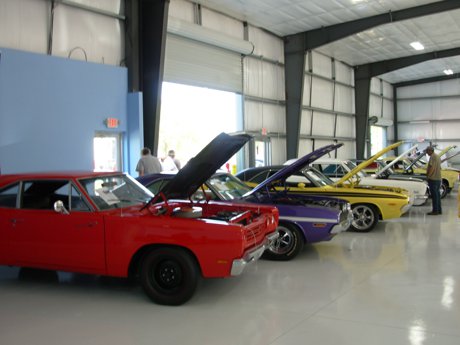 If you happen to be in Palmetto on the first Saturday and it happens to be in the morning you just might notice something is out of the ordinary. Maybe it's the rumbling of dual exhaust, or the roar of high octane horsepower, or possibly the shimmer of chrome and shiny paints both vintage and modern. That would be a sign that it's once again the morning car party held at Skyway Classics. Long '55 Chevy Bel Airs with continental kits, '34 Ford street rods, buffed up Challengers, and modified Mustangs just to name a few of the wild rides you'll see there. The show is open to all makes and models and is free to participate. There is free coffee and hotcakes to cruisers and classic rock n' roll tunes to set the mood. Music and entertainment is provided by Cadillac Jimmy. Spectators and enthusiast of all ages come to enjoy the beautiful vehicles and soak in the atmosphere.
The event is spread out around and in between the multiple buildings which make up Skyway Classics. The buildings are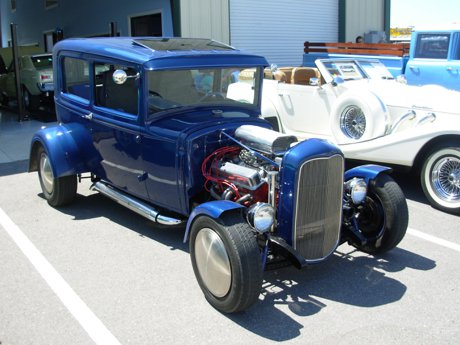 open to the public during the cruise-in offering a view of their collection of exquisite automobiles, restoration facilities, and amenities. Skyway Classics is a vintage car dealership that specializes in personalized service and quality inventory. If you're looking for a classic or a modern specialty vehicle they will work with you to find the right car or truck that will meet your taste and budget. They also offer consignments for those looking to sell their special rides. Whichever is your goal, they want to make sure you're needs are met with the upmost care.
Located at 1800 14th Ave E, Palmetto, FL, the cruise-in runs from 9am to 12noon on the first Saturday morning of every month. For more information, please call 941-212-1322 or visit their website at http://www.skywayclassics.net.
Content and photos by Kelvin Etchison