Morning Cruise In at Sommers Dutch Family Restaurant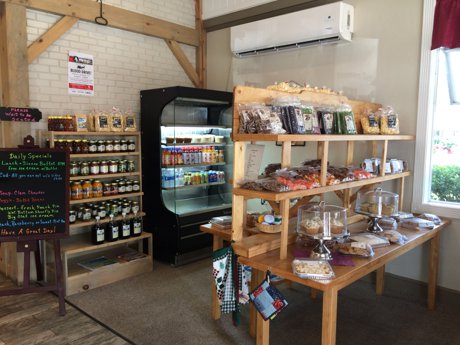 It was great to see a break in the weather this past Saturday with partly cloudy skies and dry for most of the day and evening. So, I figured I'd seize the chance to put the top down and get in a little cruisin'. My first destination of many was Sommers Dutch Family Restaurant in Sarasota where they were hosting their monthly cruise in. With blue skies and sun dominating that morning I figured there would be a good turn out and I was right. A glorious display of vintage steel and power along with nuespeed muscle was in full effect. The Dutch style eatery was surrounded by colorful street rods, customs, muscle cars, led sleds and imports and a lot full of spectators enjoying these fantastic rides.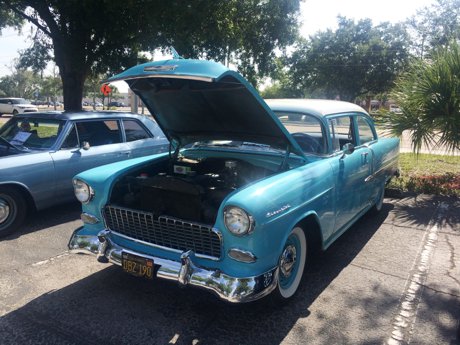 One of my favorites was there. "Blue Mamba"; a 1934 Ford Roadster boasting a '55 Super Red Ram
270 c.u. HEMI bored .60 over and a 600 Holley carb. Another impressive ride was John Magine's '57 1500 MGA roadster which is a rare triple black combo with matching numbers. Jim Wright's 1963 Chevy Impala 2 door hard top always brings back memories of when I rode in my grandmother's '64 4 door hard top. Running a 327 V8 and that button interior with that classic Impala dashboard it's a great tribute to Chevy's iconic best-selling automobile in North America. And I can't forget to mention two well preserved autos that were recently found and purchased by two locals. One was John Azar's pristine red/orange 1972 Datsun 240Z which was hidden away in storage for 34 years until he took possession of the little Z. Another was John Calkin's turquoise 1955 Chevy 2 door 210 Del Ray. A survivor with only a few OEM refurbs, this all original Blue Flame 6 was built and sold and owned in California until John brought it home to Florida becoming only the fourth owner. Stay tuned as we'll be featuring John's Del Ray in a future blog.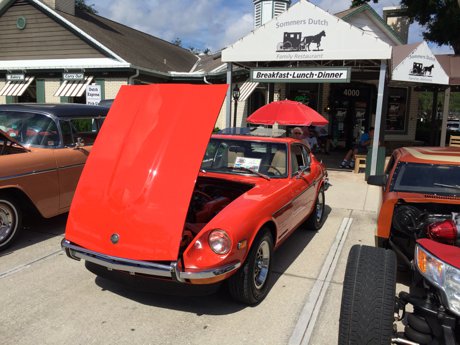 The atmosphere was set by Lance's Cruizin' to the Hop as he played popular rock n' roll tunes from the 50's, 60's, 70's, and 80's. Cruisers that registered their vehicles were eligible for door prizes, discounts to Sommers, and trophies. Sommers Dutch Family Restaurant offers both a buffet and a full menu and are open for breakfast, lunch, and dinner. Inside you can find memorabilia reflecting the Pennsylvania Dutch Amish lifestyle as well as a small store with Amish books, preserves, candies, and those famous pies and pastries available for purchase.
Conveniently located at 4000 Cattlemen Rd, Sarasota, Florida, just south of Bee Ridge Rd. and just west of I-75; Sommers Dutch Family Restaurant's morning cruise in's are held on the fourth Saturday morning of every month from 9am to 1pm. There's plenty of shade for everyone to enjoy as well as two large dining rooms inside to take in some good home cooking.
Cars, coffee, and breakfast! What a great combination!
Content and photos by Kelvin Etchison